People analytics is a fascinating field of study – one that combines the psychological and statistical expertise of practitioners to better understand and support others.
If you're considering an MSc in People Analytics, you may be wondering about the different career paths open to you following graduation. Thanks to the field's emphasis on human behaviour, it may come as little surprise that there's a near-inexhaustible list of areas in which your skills could be put to good use.
We've compiled a few examples to help showcase the wide scope of roles available:
People Analyst / HR Analyst
As a People Analyst, you'll utilise the employee-related data collected by various HR systems (from training platforms to payroll) to improve processes and solve business challenges.
Employers will look to you to for insights into their workforce based on hidden patterns in the data you examine. As part of a people analytics team, you'll also present this information in the form of helpful graphs, charts, or other visualisations. These will enable key stakeholders to make better informed decisions about the wellbeing of their staff, as well as the organisation.
People Analytics Manager / Director
This role typically involves managing a team of people analytics professionals and developing strategies to use data to improve HR decision-making.
People Analytics Manager is one of the fastest growing job titles - find out why in our guide:
HR Data Analyst
In this role, you'll be responsible for analysing and interpreting HR data to help identify trends, develop insights, and make recommendations to senior management.
Talent Analytics Specialist
This role focuses on analysing talent data to identify patterns and trends in hiring, retention, and employee development.
HR Business Partner
This role involves working closely with business leaders to develop and implement HR strategies that align with the overall goals of the organisation.
Diversity, Equity, and Inclusion (DEI) Analyst
In this role, you'll be responsible for analysing DEI data to identify areas for improvement and making recommendations to senior management to help create a more diverse, equitable, and inclusive workplace.
HR Consultant
Being a third-party service, HR consultancies work from the outside looking in. They can be hired by companies for a variety of reasons. Some organisations, particularly larger ones, call for an HR consultant to serve as a fresh pair of eyes. In such a situation, you'll likely be expected to make high-level recommendations around issues that have either been unidentified or left unresolved.
Smaller companies may need an HR consultant to make up for not having any internal HR support in place. You may be tasked with creating or implementing new projects, or even help establish a solid HR function yourself.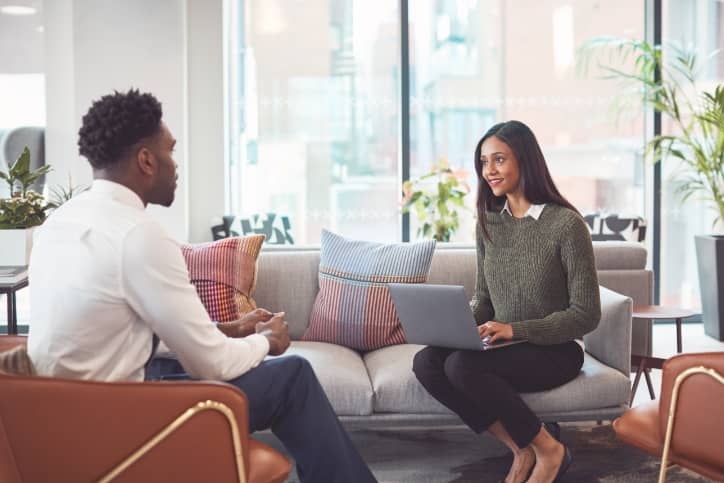 An HR Consultant can provide HR support to organisations.
Psychometrician
Psychometrics is the field of science associated with the creation of assessments that measure knowledge, skills, and attributes – otherwise known as KSAs. As a psychometrician, you'll work on developing such assessments for educational or career-related purposes.
Your role will also involve interpreting the results of such tests with a variety of statistical methods, while considering any additional factors that could affect outcomes. Most psychometricians work for universities, but your efforts could benefit multiple institutions – including places of employment – striving for fairer and more accurate testing.
Are you a BSc Psychology graduate? Find out how an MSc People Analytics could be more aligned to your career goals than an MSc Organisational Psychology:
Behavioural Scientist
A behavioural scientist examines how the actions of people can impact their development, along with their relationships to those around them and the wider community.
In addition to trying to understand the factors that could contribute to these chains of events, you might also research how to prevent or rectify such behaviours and outcomes. Behavioural scientists play an important role in a number of different fields – from criminology to anthropology or social work.
Computational Social Scientist
Computational social science – as its name suggests – is a subdiscipline of social science in which computers are used to simulate and analyse various social occurrences or experiences.
As a computational social scientist, you'll combine your social science knowledge with the use of programming or statistical software such as R or Python. Computational social scientists typically work in academia or tech-related field such as user experience research. However, much like the roles discussed above, your studies of human behaviour can potentially be applied to a variety of different areas.
If you'd like to learn how to analyse and visualise data to help organisations make more effective, evidence-based decisions, our online MSc in People Analytics is an excellent choice. As a part-time, tutor-led course, you'll have the flexibility and support needed to learn an array of new skills while honouring your ongoing commitments: