Find out how a Creative Writing student's project led her to discover more about her family history.
Sonya Hundal is a writer and wood-fired baker living in rural Lincolnshire. She has a background in theatre and in supply-chain management.
Alongside studying for an MA in Creative Writing with the University of Hull Online, Sonya works for First Story as a writer-in-residence. She has also just completed workshops and publications for an Elder Tree project from Writing East Midlands.
We spoke to Sonya about what motivated her to study with Hull, why she chose creative writing, along with how one of her assignments led her to reconnect with her family history.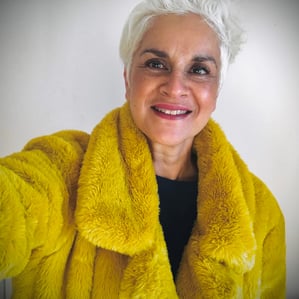 Why did you choose to study online with Hull?
I was interested in a part-time online degree to balance my work commitments and to take account of my rural location.
Hull's range of modules combined with the workshop and taught elements were really appealing. They offered the opportunity to explore new writing forms and to receive significant feedback.
What motivated you to study Creative Writing at master's level?
I have been writing for a long time and really felt I needed to understand the craft of writing. I wanted to be more professional in my work and wanted to spend more time working with other writers. Life events had delayed my postgraduate studies and I applied to Hull when I felt there was more time for me to study.
One of your assignments led you to discover more about your family history. Can you tell us more about it?
I went on a fundraising walk organised by Journey to Justice where a conversation about my Indian heritage led to a conversation about my father's activism in the 1960s. I realised his actions may have been more significant than I'd thought and that it was not widely documented.
I found some references online but during the Writing from Life module on the course I used the Hull Library resources along with photographs and interviews with my mother to evidence and detail the events.
The Director of JtoJ, Carrie Supple had expressed an interest in my father's story and I sent her the piece I had written for the assignment. The filmed interview followed, and it was specifically for the ongoing resource as part of the Economic Injustice project.
You can watch the video here.
Some of the information I discovered has made me want to document other areas of my family history and I'm currently engaging with another historical/ cultural organisation to achieve this.
Writing from Life has been my favourite module of the course. I wasn't very excited at the start! The opportunity to write so differently alongside the online research resources has provided me with a lot of new skills as well as leading to other creative outputs.
What are the networking opportunities like for online students?
You have to make an effort to communicate with people as you would do in real-life. The nature of reading other people's work and giving feedback can create a strongly critical environment.
It's great that tutors have used webinars for widening discussions and for creative expression. The more informal Facebook and WhatsApp groups have been a good way to support collaboration and friendship.
I've really enjoyed and appreciated participating in the events organised by the Creative Writing department such as the Showcase and the face-to-face writing retreat. I'm aware there have been other events organised by Hull - I just ran out of time to take part.
How do you think the course will help you in your career?
The course has already created opportunities for me to write and to contribute to a new range of writing projects. I am more confident about my skills as a writer and about exploring new forms of writing. I have been able to participate in poetry workshops with established poets, despite only being a prose writer and been comfortable with sharing my work.
What's your advice for anyone else thinking of studying Creative Writing online with Hull?
Be honest about the time you have available to study. It seems counterintuitive on a creative writing course to be organised with your reading and writing time but having a routine means you can write more.
The weekly forum tasks and workshops really help with this – so don't skip them. And engage with your peers because their feedback and support are the most valuable resource on this course.
Transform your passion for reading into the ability to produce prose worthy of public recognition. Study 100% online and choose from three start dates a year: