Whether you're at a crossroads in your career, ready to step up to the next challenge, or eager to make a real impact in your industry, an MBA can have a profound impact on your career.
With so many MBA options out there, how do you know which one is worth your time and money?
One way to ensure the quality and credibility of an MBA programme is to look for Chartered Management Institute (CMI) accreditation.
In this article, we'll break down why studying a CMI accredited qualification like Hull's Global Online MBA can be a game-changer for your career.
What is the Chartered Management Institute and what does CMI accreditation mean?
The Chartered Management Institute (CMI) is a professional management organisation, dedicated to promoting excellence in management and leadership. Since their establishment in 1947, they've continually pioneered management training, forging strong partnerships with businesses and educational institutions to develop capable, confident, and successful leaders and managers.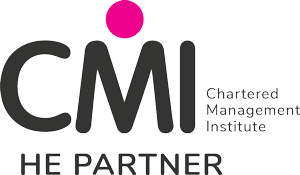 The CMI has exclusive authority, granted by a Royal Charter, to award Chartered Manager status—the pinnacle of recognition in the management field. This distinction signifies the exceptional standards and professionalism associated with the CMI.
When a course is accredited by the CMI, it means it's been thoroughly evaluated and meets the rigorous criteria set by the institute. So, you can trust that you'll receive the highest quality, comprehensive, and industry-relevant education – a solid choice for your career.
What do graduates of the accredited Global Online MBA get?
CMI accreditation supercharges your MBA. By successfully completing Hull's Global MBA, you'll not only earn an elite postgraduate degree, but a Level 7 qualification, equivalent to the CMI Certificate in Strategic Management and Leadership Practice.
Better yet, you'll also become eligible for the highly sought-after CMI Fast Track route to Chartered Manager status – setting you apart as a truly accomplished manager at the very top of your game.
What are the key benefits of choosing a CMI accredited MBA?
Earn a badge of excellence
When you choose a CMI accredited MBA, you're selecting a programme that's been recognised for its excellence. The accreditation process ensures that the course meets strict quality standards, including the curriculum, faculty expertise, and learning outcomes. In other words, you'll experience a premium quality education that aligns with industry best practices.
Demonstrate your credibility
CMI accreditation carries significant weight in the business world. Employers recognise the value of CMI accreditation and view it as a testament to your practical knowledge and competence in management and leadership.
Having a CMI accredited MBA on your CV sets you apart from other candidates and shows that you're serious about your professional development. It catches the attention of employers and can give you a distinct advantage in the job market.
Gain the edge
In today's competitive job market, standing out is crucial. A CMI accredited MBA goes beyond theoretical knowledge, equipping you with the practical skills and strategic mindset that employers value. You'll learn to think critically, make evidence-based decisions, and lead teams effectively.
You'll become a confident leader, capable of navigating challenges and inspiring your team to succeed – and a highly desirable candidate for senior leadership roles.
Build your network
Studying a CMI accredited MBA opens doors to a vast network of industry professionals, guest speakers, and fellow students. You'll have the chance to connect with people from different backgrounds, exchange ideas, and learn from experienced practitioners at both online and in-person events. These connections can lead to mentorship, collaborations, and potential job opportunities in the future.
In today's dynamic business landscape, investing in a CMI accredited MBA is a strategic choice that offers a mark of quality, industry recognition, a competitive edge in the job market, and valuable leadership and management skills. If you're serious about your career, choosing an MBA with CMI accreditation is a smart move.
Take a meaningful first step towards your professional success. Find out more about Hull's CMI-accredited Global Online MBA programme and how it can boost your career: