Find out how an online. part-time MBA can help you achieve your career goals in our interview with the Director of MBA programmes.


Dr Sarah Shaw is Director of MBA programmes at Hull University Business School. She's also Senior Lecturer in Logistics and Supply Chain Management, having spent 15 years in industry working in a variety of senior supply chain roles. Her research focuses on sustainability, in particular sustainable supply chain management, which is a key part of the online Global MBA.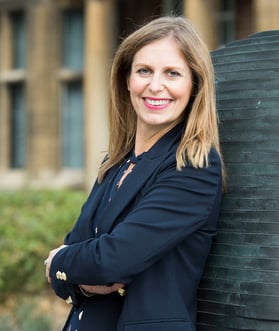 We spoke to Sarah about how the programme has been designed to help leaders adapt to our rapidly changing world, the important role the MBA Advisory Board has played in shaping the content, and how students are supported to achieve their career goals.
Read on to find out more:
What can you tell us about the Hull Online Global MBA?
Sarah: This is a pioneering MBA. It's been specifically and strategically designed to enable leaders to embrace the new norm that we live in. A seismic change is occurring in the way that we live and work, and we've designed the MBA to address that, along with the pain points that industries across the world are facing, such as sustainability, industry 4.0 and global talent retention.
This MBA is part of Hull University Business School, a leading UK business school with internationally recognised accreditations from the Association of MBAs (AMBA) and the Association to Advance Collegiate Schools of Business (AACSB).
This MBA is also accredited by the Chartered Management institute (CMI). When you graduate, you not only get the MBA qualification, but you also get the Level 7 CMI qualification in leadership and a fast track to Chartered Manager status, which is a really sought after qualification and status.
This MBA is about delivering high-impact, research-led teaching that's grounded in the real world. All of the lecturers have industry experience as well as academic experience, which enables them to bring the theory to life and really make it relevant.
This MBA is an accelerated leadership programme and it's about you and your personal journey. We want to make a difference to you, to your career and to the organisation that you're working within. It's about delivering impact and delivering return on investment back to you and your organisation.
What's the role of the Advisory Board?
Sarah: This Global MBA has been designed by leaders, for leaders. We have a very high-profile MBA Advisory Board made up of, for example, CEOs, managing directors and chief people officers who've been involved in the design of this programme. The members of the board come from different industries and public, private and third sector organisations.
They've had their fingerprints all over the design of the programme to ensure that we're addressing the key challenges that they face in their organisations. For example, how do you manage talent retention or the climate change agenda if you're running a global organisation?
They ensure that the programme is continually evolving and addresses the challenges of today and tomorrow, because this is a future-facing MBA.
Many members of the Advisory Board will be keynote speakers on the programme as well. For example, Catherine Nunn, who is the former CEO and current Deputy Chairman of Lakeland, a huge brand in the UK, will be talking about her leadership journey during the Leadership Catalyst module.
What does the Global MBA offer students who are looking to develop their own business?
Sarah: We have a module that is dedicated to entrepreneurship. At the end of the programme, we also have the MBA Project and Consultancy, which allows you to build a business case and create proposals for new business propositions, services and products, under the supervision and guidance of our senior team here at the University.
Often as a leader and as you go through your career, you quite become a specialist in your area. The MBA gives you a broader, holistic understanding, especially if you're approaching senior management or director level or looking at running your own business. It's important to have an understanding of all of the business functions.
Can you tell us more about the other Global MBA modules?
Sarah: Throughout the modules, we're taking you on a leadership journey that you wouldn't experience anywhere else.
We start off with the Leadership Catalyst module. It's a catalyst for you and your personal development. You need to make sure that, first, you understand where you are right now in your leadership journey and where you need to be. We will then help you with how to get there.
There's also the Leadership Behaviours and Psychology module. You don't see a lot of psychology in MBA programmes, but in order to be an effective leader, you need to be able to self-reflect to understand your behaviour and how that impacts others. If you think about the success of organisations, it's about people.
The Global Economic Environment module looks at macro factors impacting organisations in the wider market. We also have the Strategy Making in a Complex World module where we leverage Hull's world-class expertise in systems thinking, to look at how organisations can strategise in a highly disruptive, uncertain world. It's about preparing you for the new norm.
There are also modules in marketing in a disruptive digital era, accounting, finance and Corporate Social Responsibility, global talent management and human resource management and sustainable supply chain management.
How is the course assessed?
Sarah: If you want to create future leaders that are transformational, then you need to make sure that you are assessing them in the right way. During the programme, assessments will include tasks such as board pitches and real life scenarios, where you will tackle a problem and communicate change to an organisation.
Assessments on the programme are really challenging and prepare you for the real world and what you will have to do at a senior manager or director level in an organisation.
How are students supported on the Global MBA?
Sarah: It's important that there's a wraparound experience for students. You'll have support from myself and my team, from module leaders and from online tutors. You will also have executive one-to-one coaching, with three to four interactions over the programme to guide you on your leadership journey. It's not just about developing skills and knowledge; it's about developing your behaviours.
We also encourage a lot of group work on the MBA. A big part of the programme is the power of the network, and that's where a lot of the learning happens. We'll encourage you to work together so that you feel part of the community and part of the University of Hull family. Even though it's online, you'll learn so much from each other.
How can the Global MBA help students with their career goals?
Sarah: I call the MBA a springboard in your career because it opens doors and opportunities for you. Right now, it couldn't be any more important given the context of the global pandemic, COP26, climate change and the great resignation that we're seeing. It's about shaping and inspiring and equipping you to embrace disruption and complexity in that world.
We'll equip you not just with the theory but also the practical toolkit to make an impact straight away in your role. Whether that's supply chain tools, systems thinking tools or consultancy tools, we'll help you have more influence. You'll see an immediate return on investment.
Whether you're in an early start-up business, thinking about starting a business, trying to tackle a challenge or develop a new product or service, this MBA can help you. It applies to individuals from any industry and any organisation.
Everyone that I've spoken to who has done an MBA has no regrets. It's a personal journey and at Hull we're really passionate about our online Global MBA. We've taken a lot of time to make sure it's right.
Thank you to Sarah for sharing your insights into the programme!
Get the expertise needed to be an impactful leader. Study the Hull Global MBA part-time and online: