Find out about the latest face-to-face networking event for MSc Dementia students, taking place in Hull, UK.
The University of Hull Online's MSc Dementia students will gather together in Hull from the 19th-20th July for a wonderful opportunity to meet each other, those who live with (and care for those with) dementia and the course's academic team.
Taking place on campus, sessions will include a talk by Maxine, who is a member of the course's Dementia Advisory Board. The Advisory Board helped create the person-centred MSc and continues to share insights into what life's like for people with dementia and their carers. Maxine will talk about caring for her husband Vic, who lives with dementia.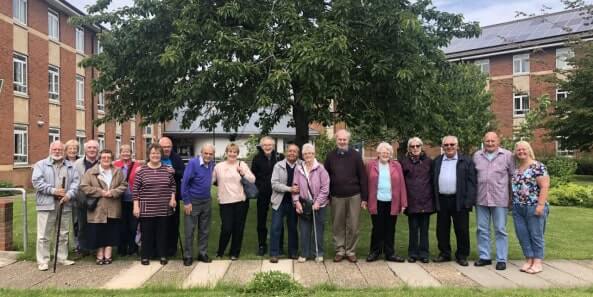 The Hull Online MSc Dementia Advisory Board
Also speaking at the two-day event is Wendy Mitchell, international bestselling author, hill walker, skydiver, mother, and public speaker. Wendy will share some of her experiences of living with dementia since her diagnosis at the age of 58.
Students will also have the opportunity to:
Hear more from Module Tutor Ellie Robinson-Carter about her work as a Social Engaged Creative Practitioner and Consultant for The Sensory Trust

Take part in a group discussion about the gendered nature of dementia, following the publication of a report focusing on women and dementia by Alzheimer's Research UK

Explore dissertation ideas and hear from PhD students about their experiences.
It's sure to be a hugely insightful and rewarding event for our MSc Dementia students!
Want to focus on human rights, dignity and care provision in dementia care? The University of Hull Online's MSc in Dementia takes a person-centred approach and can be studied part-time around your other commitments.
You will critically challenge common perceptions of dementia as a diagnosis solely of loss and despair.