Dove House Hospice in Hull, who helped develop the MSc in Dementia module on 'Dying Well with Dementia', have shared some insights into the impact of COVID-19 on hospice care.
Along with many other charities and healthcare organisations up and down the country the impact of the COVID-19 outbreak on Dove House Hospice has been huge, both financially and operationally. At the same time it has highlighted the importance of the person centred ethos of hospice care, and the way that this care is extended to the loved ones of the people we are caring for.
Whilst remaining committed to giving the special brand of Dove House care to our patients, we also realised when lockdown began that for as long as was needed, some things would have to change.
To keep our staff and patients safe, and in line with Government guidelines some services had to be paused, including our Day Services and Wellbeing sessions. In their place new services were developed, staff changed roles, some working different and often increased hours, as all our resources were refocused to help in the fight against Covid.
At the height of the crisis, the NHS used our self-contained Needler Unit to care for Covid+ patients, and on our inpatient unit many therapy staff and social workers were redeployed as ward helpers to ensure that as many people as possible could be admitted and cared for. This collaboration is a key factor in the hospice world, and never was it more needed than during this crisis.
It was really important to us that people were still able to visit their loved ones, and with careful management this was achieved, and we know it made a huge difference to families within our care that they could visit, and for many, to say goodbye in person. Some of the messages from these families have been truly heart-warming.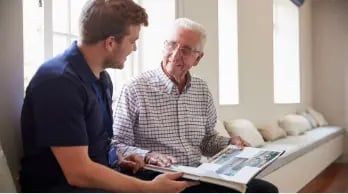 The challenges COVID-19 brought to the hospice were not only operational, as almost overnight when lockdown was announced our ability to fundraise was devastated, with the closure of our shops and day nurseries, and the postponement or cancellation of many events. As only around 11% of our funding is from the Government, the rest we raise ourselves from the generosity of our supporters.
These supporters did what they do best, rallying round to raise funds, organising socially distant events to raise money and cheer our staff and patients, sending cards and flowers, and even free fish and chips for patients and staff from our local chippy!
The generosity of those who supported our special Emergency Appeal is the reason we are still here today, the donations given to this appeal have already allowed hundreds of families to receive hospice care, and words cannot express how grateful and thankful we are for this.
Donations of goods to the hospice following many a lockdown clear out have also been overwhelming, and staff and volunteers are still working hard sorting it all in readiness for distribution to our shops that are now nearly all open. Many people also undertook personal challenges to raise money for us, and every penny of this has made a difference to our ability to carry on providing the highly specialised care we give to the people who need us most.
Dove House Hospice is loved and trusted by the community we serve, and never has this been more important than during this time when there have been such huge pressures on all our healthcare services, and we are incredibly proud of the part the hospice has played in this.
The impact on all of our staff during this unprecedented time cannot be underestimated as they have maintained their compassionate and dedicated approach to care, adapting working practices and roles in extremely difficult circumstances, whilst dealing with their own fears and anxieties.
We are also grateful to all the non-care staff who all played their own part in helping keep the hospice running, whether quickly adapting to working from home, or the staff who were furloughed, helping to save much needed funds until they were able to return to work. We are one big team here at Dove House, with a shared purpose, each one playing a part in our commitment to caring for the people of Hull and East Yorkshire despite these challenges none of us were expecting.
Although the situation has eased somewhat, and a sense of normality is returning, we also know there may be new challenges on the horizon, and all the lessons we have learned along this journey so far have equipped us to meet these challenges head on.
We still need the support of the community, as our shops are reopening and our fundraising events are beginning again, so that we can raise the much needed funds to make sure that Dove House, the only adult hospice in Hull and East Yorkshire can carry on caring, not only throughout the time of this pandemic, but for future generations.
Discover more about Dove House's fundraising activities.
Dove House helped design the Hull Online MSc in Dementia module, 'Dying Well with Dementia'. Topics covered include defining a palliative care approach, relationship centered care, comfort care at the end of life, and loss and bereavement: