As its name suggests, a Masters in Education isn't limited to those in academic teaching roles, but any professional who has a role to play in the delivery of education.
If you've been considering our online, part-time MA Education, it's important to understand that your course's focus will be on helping you gain highly transferable frameworks and skills that can be related to your practice's specific needs.
These learnings will allow you to work towards creating positive change in a number of different ways.
Implement new educational technologies
While the Coronavirus pandemic has certainly highlighted the need for adaptive teaching and learning structures, education as a whole needs to consistently utilise new technologies in order to function effectively.
Our module 'The Digital Educator' is built to give you the knowledge needed to demonstrate how digital tools can address issues and promote innovation within your organisation.
You'll learn how to advocate for and implement tools that are appropriate for your workplace, and how to work with your colleagues to build an environment that's open to change.
Apply relevant regional or global perspectives
During another core module, titled 'The Education Explorer', you'll study education from a truly worldwide viewpoint – including the role it's played in the past, its place in the present, and how it may affect our future.
In addition to this, you'll be encouraged to research education policies and practices from around the world, to directly inform your local practice. The critical analyses you'll learn to perform will then enable you to incorporate various beneficial aspects of these to your own work.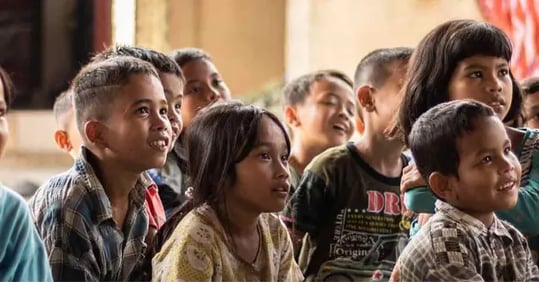 Create a more inclusive, supportive environment
Education is vital in the promotion of social justice and sustainability, and your studies will help you understand how it can be used to achieve inclusion, diversity, and lifelong learning for all.
Our module 'The Transformative Educator' will help you master how to analyse and develop a more inclusive and sustainable practice. With this, you'll be able to explore setting up new processes that could, for example, help your team source or create more inclusive learning material, or even combat biases that exist in internal hiring systems.
Upskill as an educator and researcher
As an educator, having an inquisitive mind yourself is as valuable as encouraging it in others. Our programme aims to build habits that lead to lifelong learning, so that you're constantly looking for new ways to enhance your practice.
The course module 'The Education Research Practitioner' will be of particular use here, as you'll be supported in gaining a practical and ethical understanding of how to conduct research that directly benefits your work context. This will not only help you grasp how to perform your own research in a professional and effective manner, but also enable you to guide your colleagues as they look to develop themselves.
Does an MA in Education sound like the best next step for your career? You can learn more about our Masters programme, including the many ways you'll be supported as an online student, by visiting our course page: