Dr David Barrett is the Programme Founder for the University of Hull Online's MSc in Healthcare Leadership. In this Q&A, David tells us about what led him into the field of healthcare leadership, why he thinks strong leadership is key in healthcare, and how the MSc will benefit healthcare professionals.
What's your background and what led you into the field of healthcare leadership?
David: After qualifying as nurse in 1994, I worked first in general medicine before moving into cardiac care. I progressed through different roles, before becoming the Head of Nursing for Cardiac Services at University Hospitals Coventry and Warwickshire.
Since moving into higher education, I have held several different leadership roles, whether running large programmes or leading organisational units.
Can you tell us more about your research interests?
David: My main research interest is exploring how technology can be used to enhance healthcare. My PhD explored the use of video-consultation by nurses, and I have carried out research work related to different elements of telehealth and telecare implementation in different settings. In particular, I'm interested to barriers to innovation adoption in healthcare and how these can be overcome.
Why do you think leadership is so important in the healthcare field?
David: Strong leadership is key to the delivery of safe, effective and compassionate care. A good leader will provide clear goals and direction, motivate and inspire their team, and nurture a supportive and innovative organisational structure.
Conversely, we know that when there is a lack of leadership, this can result in care which is unsafe, uncompassionate and ineffective.
What would you say are some key characteristics a healthcare leader needs to possess?
David: To lead people, you need to understand people. You need to understand what motivates people, what worries them, what causes them to make mistakes, and what helps them embrace change.
Leaders need to be role models; they need to be skilled communicators; they need to be adaptable, flexible and innovative; they need to be brave enough to make decisions, stand by them and be accountable for them.
What are the biggest challenges leaders in this field face?
David: Healthcare is one of the most challenging sectors to lead within. Leaders are working in environments where they are subject to rapidly changing circumstances, where they have to meet the demands of many different groups, and where they are often dealing with complex and high-risk situations.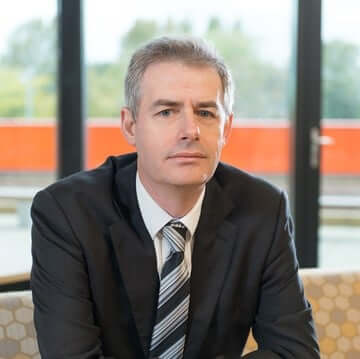 Dr David Barrett, MSc in Healthcare Leadership Programme Founder
How is this course built to benefit healthcare professionals?
The course tries to do three things that will help healthcare professionals build their leadership skills.
First, it will encourage and support reflection and self-awareness, which will allow students to better understand the type of leader they are and how they can enhance their practice.
Second, it will offer healthcare professionals the knowledge they need to lead. We will explore theories of leadership, change management, healthcare policy and approaches to enhancing quality and safety.
Finally, we will offer opportunities for students to apply their learning within the real world and identify the links between theory and practice.
What would you say to anyone unsure about doing an MSc online?
Go for it! An online programme offers a level of flexibility that makes it ideal for students from all settings and backgrounds. The ability to access materials whenever you wish means that the programme fits around you, rather than the other way around.
Last but not least, why study at the University of Hull?
The University is one of the UK's oldest – we have been delivering high quality education since 1927. In recent years, our Faculty of Health Sciences has grown into a leading provider of healthcare education and research, with a thriving undergraduate and postgraduate student community.
The University's portfolio of online programmes – of which the MSc Healthcare Leadership is the latest - is characterised by innovative teaching and excellent student support.
The online MSc in Healthcare Leadership can be studied part-time around your existing work and personal commitments. You can also choose from three start dates per year: