The University of Hull Online MSc in Engineering Management is accredited by the Chartered Institute of Management (CMI) – the only Chartered professional organisation for managers and leaders.
What are the benefits of CMI accreditation to you as a student and after you graduate? Why choose a CMI-accredited master's degree?
Who is the CMI?
Established in 1947 and granted Royal Charter in 2002, the Chartered Management Institute (CMI) works with its 180,000 plus members, employers and education partners to raise the quality and standard of management in the workplace.
As the only chartered professional body in the UK, it is the only organisation that can award Chartered Manager status – the ultimate management accolade.
What is CMI accreditation?
Our online MSc in Engineering Management is accredited by the Chartered Management Institution (CMI). Highly regarded by employers, this means that it meets an international benchmark for excellence in content, teaching quality, and resources.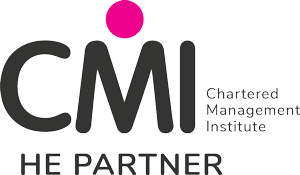 As part of your studies, you'll receive complimentary CMI affiliate membership. You also have the opportunity to earn a postgraduate degree and a Level 7 qualification, equivalent to the CMI Certificate in Strategic Management and Leadership Practice, helping you stand out to employers.
What is a 'Chartered Manager' and how do I achieve 'CMgr' status?
Chartered Manager (CMgr) is the most prestigious status that can be achieved in the management profession and can only be awarded through the CMI. Being able to use the internationally protected title of 'CMgr' after your name demonstrates that you have achieved the highest level of managerial competence and functional ability, and are committed to current best practice and ethical standards.
Research by the CMI has shown that becoming a Chartered Manager not only improves your career prospects, but also boosts your salary too – with a £13K average pay rise as a result of becoming Chartered.
The good news is that, on successful completion of our MSc, you will have met the academic requirements for the fast-track route to becoming a Chartered Manager. If you also have at least three years' experience in a management role, you could therefore obtain Chartered Manager status in as little as a few weeks.
What are the benefits of student CMI membership?
With Hull, you'll receive complimentary affiliate (student) membership of the CMI for the duration of your studies and a further three months after you complete the course, giving you access to a whole host of benefits and resources to support your learning journey.
You can attend CMI events and access its Management Resource Portal, which has a collection of over 9,000 e-books, a comprehensive database of articles and company, industry and market reports, and over 200 practical guides on key management issues.
How will a CMI-accredited MSc boost my career?
A CMI survey of over 1,000 managers found that employers want all graduates to enter work with practical management and leadership skills. Furthermore, seven in 10 employers want management, enterprise and leadership modules integrated into all degree subjects to boost employability and leadership skills. They also want to see graduates achieve professional qualifications as well as their main degree.
As long as you achieve your grades, you will graduate from our MSc with your postgraduate master's degree and a professional CMI qualification – equivalent to a CMI Level 7 Diploma in Strategic Management and Leadership Practice. CMI's qualifications sit on the UK's Regulated Qualifications Frameworks (RQF) and are recognised by the European Credit Framework.
With the additional three-month extension we provide as part of your student membership, you can continue to make use of the CMI's Careers Development Centre, which offers instant CV feedback, interview practise and has a wealth of tools, information and advice to support your job search.
What will I learn on the MSc in Engineering Management?
Studied part-time and online over two years, our MSc in Engineering Management will equip you with the advanced skills and knowledge needed to become a successful engineering manager, ready to deliver impressive, high-quality results for your employer.
You'll be able to use management tools, techniques and principles to identify and implement strategies and best practices to continuously improve business efficiency and operations. You will also learn proven project management techniques and strategies, such as Agile, Prince2, and ITIL.
Are you ready to take your engineering career to the next level? Discover the University of Hull online MSc in Engineering Management: