Read our interview with award-winning MA Creative Writing graduate Gosia Buzzanca.
Gosia Buzzanca is a graduate of Hull Online's MA in Creative Writing and recently won the W&A Working-Class Writer's Prize for 2022, which recognises the work of writers in the UK who identify as working class.
We spoke to Gosia about what winning the prize means to her, as well as what motivated her to study creative writing at master's level and how she balanced her studies with work and family life.
Tell us a little bit about yourself and your background
Gosia: I grew up in Poland and moved to the UK at 19 to study. One husband, two children, two degrees and multiple jobs later I've ended up making myself a home in Wales. I'm now working as a library assistant in a South Wales library and hopefully creating a writing career to sustain me.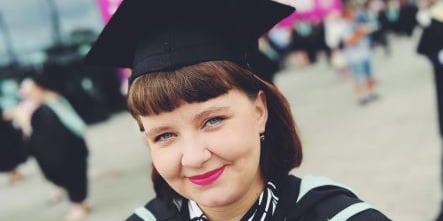 You recently won the W&A Working-Class Writers' Prize. Congratulations! Can you tell us about the work you submitted and what it means to you to win this award?
Gosia: Thank you so much! I won with the work I wrote during the portfolio stage of my MA. I wrote about my experience of returning to Poland and facing the previously repressed memories that came as a result of that journey.
It was such a personal piece of writing that I actually got quite poorly while working on it, which of course I wouldn't recommend to anyone – look after yourself first and foremost, always.
Winning the award means so much – it's a relief to know that my writing matters, it gives me a sense of pride in my work and commitment, and it fills me up with excitement for the future.
What motivated you to study this course at master's level?
Gosia: It was the perfect time and place for me, personally. I'm a big believer in MA courses but I'm also absolutely certain one does not need them to find success in writing. I will be forever grateful for the Hull Online MA Creative Writing, my cohort and my wonderful tutors though, as they made the bleak years of pandemic and grief bearable. The workshops, webinars and deadlines carried me safely to the other side.
How did you balance work, study and socialising?
Gosia: I did work at the library through most of my studies, part time at first and, during the second year, moving onto a full time position. As a working mother of two children everything was a huge juggle and a bit of a blur for two years, if I'm honest.
It took some prioritising and lots of support from my husband, James, but was doable. And, if you're as lucky as I was with your writing/studying cohort, the weekly webinars will become part of your social life in a way. I couldn't wait to see these people again each week!
What was the support like both during the application process and your studies?
Gosia: The application process was incredibly smooth. Within a week of applying I was accepted on the course. During the studies any and all queries were quickly resolved and you really felt that your success was a priority to the tutors and student advisers.
I must shout out Dr Claire Griffiths here as her passion for writing was something that ignited my long-lost spark for it, as well as Dr Chris Westoby who is running the online programme with boldness and flair.
What's your advice for anyone else thinking of studying this course online with Hull?
Gosia: Just go for it. If you're considering doing MA in creative writing, then Hull Online is the place to be – with a young, ambitious team working on the programme as well as brilliant, supportive co-students from all walks of life and every corner of the world – it doesn't get more inspiring than this!
Thank you to Gosia for sharing her experiences with us!
Become a valued, active member of a vibrant international creative writing community with Hull Online's MA Creative Writing. Choose from three start dates per year: