Read our graduate interview to find out how an MSc in Logistics and Supply Chain Management can impact your career.
Ben Franklin is a graduate of the Hull Online MSc in Logistics and Supply Chain Management and a Group Logistics Manager.
We spoke to Ben about what motivated him to get a master's, how he created lasting connections with his online classmates, and how the course has helped him to propel his career forward.
Read on to find out more:
Can you tell us a little bit about yourself and your background?
Ben: I have been working in the logistics field since completing my bachelors. This has included working for a commodity trader and then with the London auction house Christies, to facilitate their exports.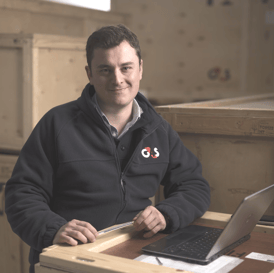 I did that for a few years, and then I got moved up to managing their global exhibitions. I was responsible for managing the movement of high-value goods around the world.
From there, I went and worked for another company in London, before working out in Dubai for a company called Crown Fine Art for a few years.
When I returned to the UK, I was thinking about changing career. I thought I might train to be an electrician or a carpenter.
However, I sat down with a mentor of mine, and he reminded me that I had a strong background in logistics. If I got some academic qualifications to complement my existing skills, that could propel me forward, rather than starting at the bottom somewhere else. It was a really important day for me.
Why did you choose to study with Hull Online?
Ben: I looked into doing a masters with several different places but there was something about the way the University of Hull presented its course curriculum that felt right and like a good match for me.
I started the MSc in Logistics and Supply Chain Management and then two months later, I got offered another job in Denmark and I was traveling there every two weeks to work in the logistics industry. Dong the master's online gave me real flexibility to work around my job and everything else.
What were the networking opportunities like?
Ben: I did an on-campus bachelor's degree but I felt with this online master's networking was easier because you have the ability to speak up in class and you can really contribute.
Historically, I haven't been a great public speaker and putting my hand up in a lecture theater with 300 people is not my idea of a fun day out.
With the online course, I feel that those barriers are brought down a little bit and it gives you the confidence to be able to raise your hand virtually and contribute.
I formed wonderful bonds with my cohort through the weekly webinars that we had. We met each other in-person when we graduated, and we were like long lost friends. I still consider those people to be very good friends. I know that if I needed some help, they would be there.
Have you been able to use what you've learned in your career?
Ben: I wrote my dissertation on sustainable practices in my industry. My company was bought out by a bigger firm and about two months later, I had a one-to-one with the new CEO. It just happened that the CEO owns a sustainable energy company.
I told him I had written a dissertation about sustainable practices, and he asked me to send it to him. He read it on the plane and then sent it to all the senior members of the company, telling them, "You've got to read this - this guy knows what he's talking about."
It just went from there. I got promoted from Business Manager in Denmark to Group Logistics Manager in Europe, responsible for the integration of the new acquisitions and the rationalisation of the various businesses.
Would you describe the course as a good investment?
Ben: It's such a well-rounded, comprehensive degree in the field of logistics and supply chain. There are so many different academic resources that you can draw from. It gives you confidence and a new vocabulary.
You can talk with people in high-level positions with ease. I feel really comfortable with the CEO, who I report directly to. He just let me get on with it. I don't think I would be where I am without this master's. It's been invaluable to my career progression.
Thank you to Ben for sharing his insights into the course!
Master the complexity of global supply chains with the University of Hull's online MSc in Logistics and Supply Chain Management. Start in January, May or September: